January 1,

Biden Blames Failed Presidency on Republicans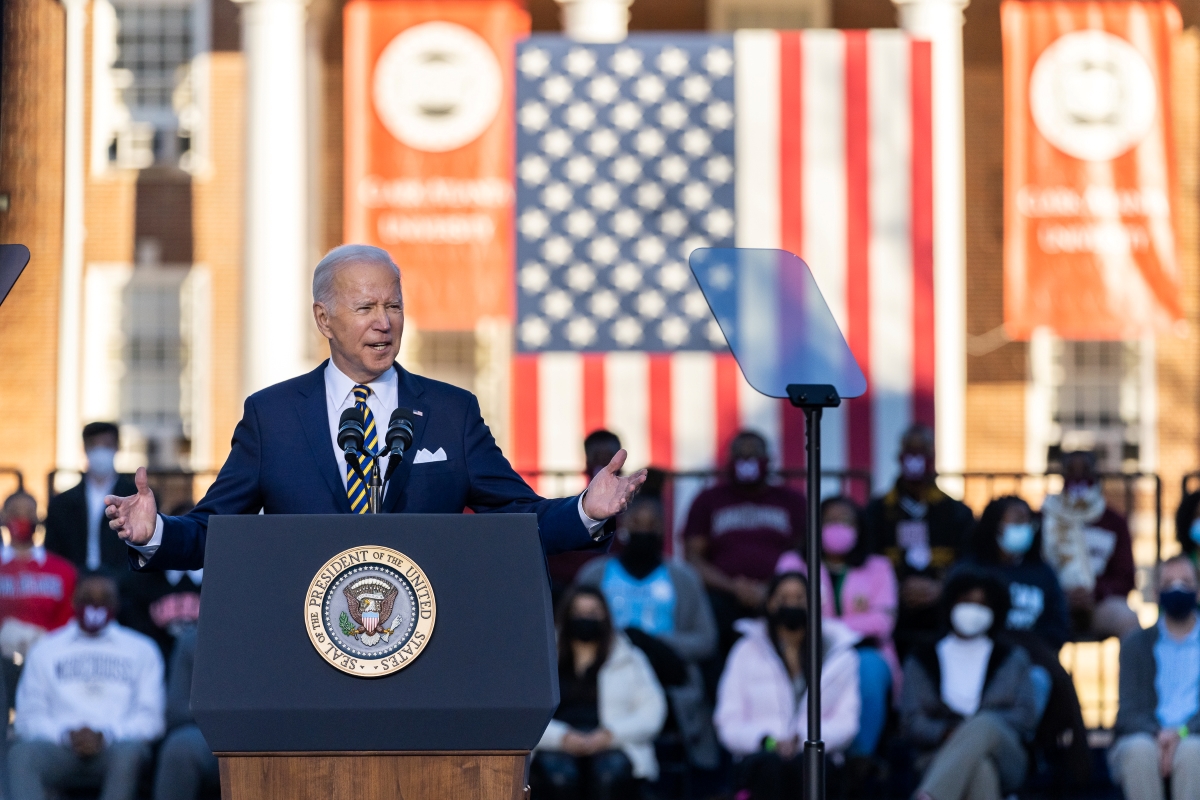 ON THIS DAY IN HISTORY…
1878: 1st female telephone operator starts work, Emma Nutt for the Edwin Holmes Telephone Despatch Company in Boston.
President Biden tweeted on June 4th 2020 about how his presidency would differ from then President Trump as he wrote: "I'll do my job and take responsibility. I won't blame others." Source: Twitter
  It would seem as though recent tweets from the POTUS has him going back on those words; as he again took to twitter, only this time to place blame on Republicans for gas prices, food prices, and rising healthcare costs. Source: Fox News
Republicans rejected this opinion and have continued to further distance themselves from the President and his policies. It is not just the republicans who have expressed disappointment in the President, but Democrats as well have been getting frustrated with Biden's inability to improve the state of the country. Source: The Hill
When looking at several factors that are important to left leaning voters including Police Violence, Humane Immigration Policies, Income Inequality, Healthcare, Foreign Policy, and the State of the Union it is no wonder that people from both sides of the political isle are not impressed with the current administration.
CRIME
When it comes to Police Violence; the Democratic party praised an executive order aimed at "overhauling policing" source. But has the administration been able to objectively quell fatal police shootings, or homicide in the United States?  According to the Statista Research Department "the trend of fatal police shootings in the United States seems to only be increasing." According to the Council on Criminal Justice, "homicides have risen 44% since 2019 across the USA."  Sources: Statistica , Fox News
IMMIGRATION
When it comes to humane immigration and "kids in cages" it doesn't seem like much has improved. The Daily Mail reported on a new "Texas migrant facility [that was] already 700% over-capacity." They detailed that "unaccompanied minors were reportedly going hungry, sleeping on the floor, and showering just once a week while being held there." Source: Daily Mail
INCOME INEQUALITY
Another important issue to left leaning voters is Income Inequality. Has Biden's policies been able to strengthen the middle class and raise people out of poverty? What are the statistics? 41.4% of Americans are classified as low-income or low-income families. Pew Research Center shows the average income for middle class families has dropped about 20%. Source. If this trend continues it is possible that by the end of Bidens term in office half of America may be classified as low-income. This is hardly an improvement to the middle class; it is more akin to the hollowing out of it.  
DEBT
While the Debt is not a high priority for most left leaning voters, the ability to increase spending on social programs are. Mathematically – The more we as a country spend on debt, the less we have potentially to spend other social programs. The Center on Budget and Policy Priorities showed in fiscal year 2022 approximately 7% of our budget goes towards paying our debt. The net federal debt is projected to reach $21.7 trillion by the end of fiscal year 2022. This means the US now spends more on debt than it does on Education, Transportation, Agriculture, Science, and medical research combined. Source: Center on Budget and Policy Priorities
Health Care:
Despite spending the largest portion of its federal budget on healthcare outspending other countries by far. According to JAMA the US life expectancy is shorter, obesity is higher, as is the rate of maternal and infant death when compared to other countries.   Source: ABC News
Foreign Policy:
The US is currently in extremely high tension between both Russia and China. The Bulletin of the Atomic Scientists announced the 2022 Doomsday clock to be 100 seconds from Midnight. The Doomsday Clock is a way scientists relate to the public how close humanity is to destruction from things like nuclear war. source . Despite the possibility of nuclear war it does not seem that the Biden administration has been able to deescalate the current state of relations, between the US, Russia, and China.
State of the Union:
Perhaps the most damning statistic and one that cuts to the heart of what it means to be an American (no matter which side of the isle you sit) is the idea of being a part of the "United" States of America and the integrity of our elections. ABC News reported that only 20% of Americans are very confident in the country's elections. This marks a drastic drop in election confidence from an already abysmal 37%. The Western Journal reported that 52% of Trump supporters and 41% of Biden Supporters think that it is time for Red and Blue States to Secede from the Union. 80% or more of voters viewed the opposing party as a "clear and present danger". The United States is teetering on the edge of Balkanization. If this trend of hatred and fear of the other side continues there will no longer be a "United" States of America. Sources: ABC News , Western Journal
The country is in desperate need for strong leadership and the ability to calm tensions both abroad and at home. The President should listen to his own advice when he said that he would do his job and take responsibility without blaming others. The question becomes whether America can find the leader she deserves. Is Trump going to ease tensions? Current polls are showing Florida Governor Ron DeSantis is strong favorite for the nomination. What are your thoughts? Comment below who you think would make the best president moving forward: Biden, Trump, DeSantis, or someone else?

Chicago Eyes First Government-Run Grocery Store
Chicago Mayor Brandon Johnson announced a potential game-changer. The city is exploring creating a government-owned grocery store. This is to help "historically underserved communities."
Mayor Johnson emphasized that every resident deserves convenient, affordable, and healthy grocery options. "A better, stronger, safer future is one where our youth and our communities have access to the tools and resources they need to thrive," he said.
The mayor's commitment is to bring innovative, whole-of-government solutions to tackle existing inequities. "I am proud to work alongside partners to take this step in envisioning what a municipally owned grocery store in Chicago could look like," stated Johnson.
He noted that this project promotes "food equity." The U.S. Department of Agriculture's estimates reveal significant disparities in access to grocery stores in different areas of the city.
If realized, this would make Chicago the first major US city to have a government-owned grocery store to address "food inequity."
Ameya Pawar from the Economic Security Project pointed out the transformative potential of this project. "The City of Chicago is reimagining the role government can play in our lives by exploring a public option for grocery stores via a municipally owned grocery store and market," he said.
Pawar drew parallels with libraries and the postal service, saying a public option brings economic choice and power to communities. He sees a city-owned grocery store as a viable way to restore access to healthy food in neglected areas.
Currently, the administration is conducting a feasibility study. It's determining how the new store can operate successfully in addressing the community needs and disparities in food access.
What We Think:
This move by Chicago to start a government-run grocery store is surely an interesting one. It's about giving all folks, no matter where they live, access to good food. Now, we've seen government-run things before, like the post office.
So, the big question is, can the government really run a store efficiently and help the folks on the South and West sides?
It's a noble goal to bring good food to every part of the city, especially where folks have had it tough. But, will this actually work or just end up being another failed government experiment? Only time will tell.
As our loyal readers, we encourage you to share your thoughts and opinions on this issue. Let your voice be heard and join the discussion below.
---
Fetterman Mocks GOP Colleagues in Crude Statement
In a striking twist amid the ongoing dress code controversy in the Senate, Sen. John Fetterman, D-Pa., has concurred to don a suit on the Senate floor, asserting this move as one to "save democracy."
The decision, marked with vehement language, emerges amidst a wave of bipartisan discontent over Majority Leader Sen. Chuck Schumer's lenient modification to the Senate's longstanding dress norms.
Fetterman's consent to align with traditional Senate attire is tethered to explicit conditions. He has demanded that House Republicans orchestrate the passage of a government funding bill and proclaim unwavering support for Ukraine.
"If those jagoffs in the House stop trying to shut our government down, and fully support Ukraine, then I will save democracy by wearing a suit on the Senate floor," Fetterman asserted in a public statement.
If those jagoffs in the House stop trying to shut our government down, and fully support Ukraine, then I will save democracy by wearing a suit on the Senate floor next week.

— Senator John Fetterman (@SenFettermanPA) September 20, 2023
Fetterman's distinctive apparel choices and Schumer's leniency have sparked a tumult of debates over standards and institutional respect for the Senate. The Pennsylvanian Democrat, often spotted in casual attire, has embraced the altered rules, while openly mocking the disapproval emanating from Republican quarters.
Nevertheless, prominent Democrats, including Majority Whip Dick Durbin, D-Ill., have vocalized concerns, highlighting the urgent need for maintaining decorum on the Senate floor.
"I'm concerned about it…I think we need to have standards when it comes to what we're wearing on the floor of the Senate," Durbin expressed during a SiriusXM interview, revealing discussions underway regarding the reinstatement of sartorial standards.
Further, moderate Sen. Joe Manchin, D-W.Va., is spearheading a proposal aiming to restore the Senate's dress code, underscoring bipartisan unrest surrounding Schumer's alterations.
The proposal has received backing from "the coalition of the rational," as termed by Sen. John Cornyn, R-Texas, and seeks to delineate clear dress norms.
What We Think
This Senate dress code debacle is reflective of a deeper issue— it underscores a blatant disregard for the traditions and decorums that have long stood as the backbone of our esteemed institutions.
Fetterman's casual approach to Senate attire and Schumer's ensuing acquiescence are not just about clothes; they're indicative of a waning respect for the Senate and its time-honored norms.
While it's reassuring to witness bipartisan support to uphold Senate traditions, it's disheartening that we've reached a juncture where a dress code sparks such controversies.
This scenario is emblematic of a broader societal shift towards casualness and a diminishing reverence for institutions that deserve our utmost respect. The ongoing dialogues and proposals to reestablish dress norms are crucial for preserving the dignity and decorum of the Senate.
The conditions set forth by Fetterman reveal another layer of the political tussle and emphasize the importance of maintaining unity, especially in matters concerning international affairs and governmental functions.
It's high time that all senators, regardless of their party affiliations, unite to uphold the sanctity and dignity of the Senate, displaying a united front that resonates with responsibility, respect, and patriotic duty.
As our loyal readers, we encourage you to share your thoughts and opinions on this issue. Let your voice be heard and join the discussion below.
---
Democrat Senator Indicted on Bribery Charges
The world of politics is swirling with shocking allegations as Senator Bob Menendez, D-N.J., and his wife, Nadine Menendez, are facing federal charges.
An indictment unsealed in federal court reveals accusations of the couple violating corruption and bribery laws, with Menendez staunchly denying any wrongdoing, claiming forces "behind the scenes" are working to silence him and dig his "political grave."
Menendez declared, "Since this investigation was leaked nearly a year ago there has been an active smear campaign of anonymous sources and innuendoes to create an air of impropriety where none exists."
The indictment discloses a concoction of sprawling allegations against Menendez, alleging he engaged in a corrupt scheme with Fred Daibes, a New Jersey real estate developer; Wael Hana, who runs a halal meat certification business; and businessman Jose Uribe.
The contents reveal claims of gold bars, money stuffed in envelopes, and illicit halal certifications as part of a larger scheme to aid the Egyptian government.
According to the indictment, Menendez allegedly "provided sensitive U.S. Government information and took other steps that secretly aided the Government of Egypt."
He is accused of having "improperly advised and pressured an official at the United States Department of Agriculture" to protect a business monopoly granted to Hana by Egypt, used, in part, to fund the bribes being paid to Menendez through Nadine Menendez.
As agents delved deeper, they uncovered over $480,000 in cash during a raid in June 2022, with some of the money hidden in jackets bearing Menendez's name next to the insignia for the Congressional Hispanic Caucus.
The indictment also mentions over one hundred thousand dollars' worth of gold bars discovered in the home, provided by either Hana or Daibes, and the finding of a luxury vehicle paid for by Uribe parked in the garage.
The indictment recalls Menendez searching on Google for the "kilo of gold price" on Jan. 29, 2022, seemingly to ascertain the value of the gold bars found on his property. This occurrence came to light shortly after Menendez's wife allegedly exchanged calls with Daibes' driver, thanking him and referring to the interaction as "Christmas in January."
The indictment alleges attempts by Menendez to influence federal criminal prosecutions, with him reportedly recommending now-U.S. Attorney Philip Sellinger, seemingly believing he would be sympathetic to Daibes. During this time, cash, gold bars, and furniture were allegedly received by Menendez and his wife in return for his intervention efforts.
In another shocking turn, the indictment alleges the receipt of a Mercedes-Benz C-300 convertible by Menendez and his wife, supposedly in exchange for Menendez's intervention in a New Jersey state criminal prosecution related to an associate of Uribe.
After acquiring the vehicle, Menendez's wife allegedly texted him, "Congratulations mon amour de la vie, we are the proud owners of a 2019 Mercedes."
These detailed revelations provide a glimpse into the alleged corruption and bribe-laden world Menendez is accused of inhabiting. The Senator maintains that his behavior was well within the realm of his office's authority and continues to deny any illicit activities.
---