January 1,

Economists: No, Corporate Greed Isn't Causing Inflation
Economists largely agree that profit-driven corporate greed isn't causing inflation — despite what many Democratic lawmakers say.
"The CEOs of some of the biggest companies have been bragging to their investors that inflation has created a terrific opportunity for them to raise prices and boost profits," Sen. Elizabeth Warren (D-MA) said earlier this year.
But The Hill reports that "since 1980, the market power of companies over consumers has ticked up an average of about 1 percent a year, allowing them to keep marking up their prices higher and higher above input costs."
"I am pretty skeptical about the 'greedflation' narrative," Gabriel Unger, a Ph.D. student in economics at Harvard University told the outlet.
"It's true that markups (and market concentration) have been rising sharply since around 1980. But over almost this whole period, up until the pandemic, inflation has been historically very low. So for most of the past 40 years, we've had an economy with high and rising markups, and very low inflation," he continued.  
"It's possible that in the absence of the former, inflation might have been slightly lower, but I still think this suggests it's unlikely that high markups on their own cause an explosion of inflation."
Chad Syverson, an economist at the University of Chicago Booth School of Business, says the sentiment is gaining traction among economists.
"I don't know how many people want to sign up for consensus on this, but there's been a lot of research that people have found reasonably convincing that says that measures of market power seem to have been ticking up. It's not unanimous, but more people think that's true now than five years ago," Syverson said.
The outlet noted a study from the left-leaning Economic Policy Institute (EPI) that found the increased market power of corporations over consumers has resulted in sustained higher prices.
"It is unlikely that either the extent of corporate greed or even the power of corporations generally has increased during the past two years. Instead, the already-excessive power of corporations has been channeled into raising prices rather than the more traditional form it has taken in recent decades: suppressing wages," wrote EPI economist Josh Bivens.

Armed Impostor Arrested at Robert F. Kennedy Jr. Event in Los Angeles (Video)
In a chilling episode that underlines the growing security concerns for political figures, a man posing as a federal agent was apprehended at a campaign event for presidential candidate Robert F. Kennedy Jr. in Los Angeles. Shockingly, Kennedy has been refused Secret Service protection by the federal government, even with consistent threats looming over his campaign.
The event, held at the renowned Wilshire Ebell Theatre, saw an unexpected disruption when the Los Angeles Police Department (LAPD) was alerted to an individual trying to pass himself off as a U.S. Marshal. This dubious character was armed and confidently sported "a badge on their lapel, a gun, and a shoulder holster," as reported by Breitbart.
In an even more brazen attempt to blend in, the impostor proclaimed to be a part of the event's security detail. Yet, when questioned further, none of the staff members could verify his claims. A note provided to the campaign, as witnessed by Breitbart, stated, "Male imp. fed. agent w/ handgun and ammo exposed. Claimed to be employed for event, but wasn't recognized by sec."
Thanks to the vigilance of the security team, a potentially hazardous situation was averted. Video footage captured the man's arrest, where he can be seen being methodically handcuffed and led away by LAPD officers.
🚨#BREAKING: Armed Man with Loaded Guns has been Arrested for Impersonating RFK's Security team during at an Event⁰
📌#Losangeles | #California⁰⁰An armed man who was impersonating a U.S. marshal at a National Hispanic Heritage Month event that was taking place in Los Angeles… pic.twitter.com/f6vaT4EeNm

— R A W S A L E R T S (@rawsalerts) September 16, 2023
Following this unsettling incident, Kennedy released a statement expressing his gratitude towards the sharp-eyed security team from Gavin de Becker and Associates (GDBA).
He detailed, "The man, wearing two shoulder holsters with loaded pistols and spare ammunition magazines was carrying a U.S. Marshal badge on a lanyard and beltclip federal ID. He identified himself as a member of my security detail. Armed GDBA team members moved quickly to isolate and detain the man until LAPD arrived to make the arrest."
Kennedy's pleas for enhanced security, especially in light of his family's tragic history, have gone unheeded. Both his father and uncle were tragically assassinated, yet the current administration has not granted him the Secret Service protection typically allotted to presidential candidates.
"I am the first presidential candidate in history to whom the White House has denied a request for protection," Kennedy lamented.
As our loyal readers, we encourage you to share your thoughts and opinions on this issue. Let your voice be heard and join the discussion below.
---
1963 Assassination Witness Challenges JFK "Magic Bullet" Theory
Paul Landis, a former Secret Service agent, who was a mere few steps away from President John F. Kennedy on the fateful day of his assassination, has broken his silence, raising new concerns about the long-debated "magic bullet" theory.
Landis, during his interaction with The New York Times and in his upcoming book, gave an account of that traumatic event which he has tried for decades to forget. He opined that if his memories from that day are accurate, the long-held "magic bullet" theory might need a serious revisit.
The year following the assassination of President Kennedy, the Warren Commission Report came out with the "magic bullet" theory. As per the report, a single bullet, fired at the president's limousine, managed to injure both President Kennedy and Texas Governor John B. Connally Jr. This single-bullet theory was bolstered by the fact that a bullet was discovered on Connally's stretcher at the Parkland Memorial Hospital.
But Landis, now 88, challenges this notion. According to him, he discovered the bullet, not on the stretcher, but on the limousine seat itself.
Landis recalls, "There was nobody there to secure the scene, and that was a big, big bother to me. All the agents that were there were focused on the president." He added, "This was all going on so quickly. And I was just afraid that — it was a piece of evidence, that I realized right away. Very important. And I didn't want it to disappear or get lost. So it was, 'Paul, you've got to make a decision,' and I grabbed it."
Based on his memory, the bullet that he found had hit Kennedy in the back and hadn't penetrated deeply. This bullet exited before the president was removed from the limousine. Landis's revelations raise a significant question – was Lee Harvey Oswald the only shooter?
While conspiracy theories and questions about Oswald acting solo have persisted over the years, official records released by the National Archives have not provided any definitive evidence that counters the Warren Commission's conclusions.
However, Landis's recollections have been met with skepticism by some historians. They assert that his claims don't align with their extensive research and the "cold hard facts" known about that day.
Author Gerald Posner argued, "Even assuming that he is accurately describing what happened with the bullet… It might mean nothing more than we now know that the bullet that came out of Governor Connally did so in the limousine, not on a stretcher in Parkland where it was found."
Nevertheless, with a witness of Landis's stature coming forward, the debate over the "magic bullet" theory is bound to reignite, leaving many to wonder once again about the events of that tragic day.
As our loyal readers, we encourage you to share your thoughts and opinions on this issue. Let your voice be heard and join the discussion below.
---
Benghazi Hero: Hillary Clinton is "One of the Most Disgusting Humans on Earth"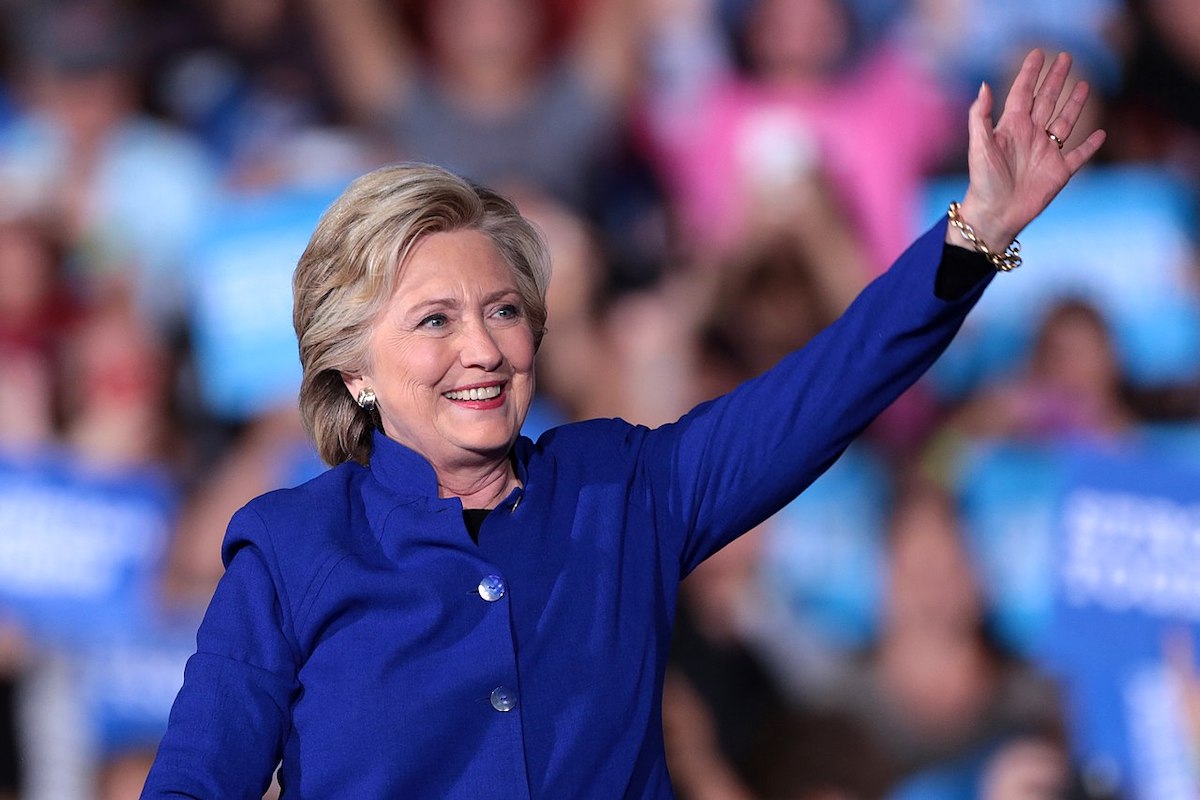 Mark "Oz" Geist, celebrated for his valor during the 2012 Benghazi attack, expressed strong sentiments on former Secretary of State Hillary Clinton during his guest appearance on "The Shawn Ryan Show."
Shawn Ryan commenced the conversation recalling the grim facts of the deadly 2012 assault on the U.S. mission and diplomatic compound in Benghazi, Libya. He highlighted how Geist, despite being shot 22 times, played a crucial role in saving numerous lives. Ryan poignantly remarked on the incident, "It was, once again, one of the most incompetent times of American leadership."
The Benghazi event, for many, remains a stark reminder of the alleged negligence and questionable leadership decisions made during that period. Ryan underscored how the incident and subsequent lack of responsibility deeply resonated with a significant portion of the American populace.
Diving deeper into the backstory, Geist posited a theory regarding Clinton's actions leading up to the events in Libya. He stated, "I think, at the time [Obama got elected] — Hillary Clinton saw her chance to put together a coalition and go after 'the bad guy,'" referring to the then-Libyan dictator Muammar Gaddafi. This ambition prompted the U.S. to push Ambassador Stevens, in 2011, into Benghazi, with the objective of forging a coalition of militias against Gaddafi.
Geist elaborated on the intricate network of nations rallied by Clinton, saying, "Hillary Clinton put together the coalition of foreign countries — Germany, Italy, France, the U.S. and a few others." He added an intriguing detail, revealing that "Gaddafi's sons, this was in 2011, were in D.C. trying to negotiate with the U.S. to allow their father to exile to a third country."
The former CIA Annex Security Team member further speculated on Clinton's ambitions, sharing his belief that she "wanted to have a platform to run on in 2016 that said, 'Look what I did, I overthrew this country, I put this coalition together and we got rid of one of the worst bad guys in the world.'"
Ryan did not mince his words when it came to the former Secretary of State, labeling her as "one of the most disgusting human beings on the planet." Geist concurred wholeheartedly, adding, "She's worse than her husband."
It's worth noting that Clinton took responsibility for the bureaucratic handling of Americans' security overseas after the 2012 Benghazi terrorist attack, perpetrated by the al-Qaeda-affiliated terrorist organization Ansar al-Sharia. Subsequent investigations by Republican-controlled congressional committees probed into the actual events of Benghazi and whether there was any dereliction of duty by Clinton or other members of the Obama administration.
As for Geist, his involvement in Benghazi spanned from September 11 to 12, 2012. Known for his bravery and commitment, he's credited with aiding 25 Americans during the onslaught. Later, he co-authored the book "13 Hours: The Inside Account of What Really Happened In Benghazi."
Hosting the conversation was Shawn Ryan, a former Navy SEAL and CIA Contractor with 14 years of operational experience. His show, "The Shawn Ryan Show," seeks to narrate the untold stories of battle, loss, and redemption, providing an intimate lens into the lives of those who've been in the heart of it all.
As our loyal readers, we encourage you to share your thoughts and opinions on this issue. Let your voice be heard and join the discussion below.
---